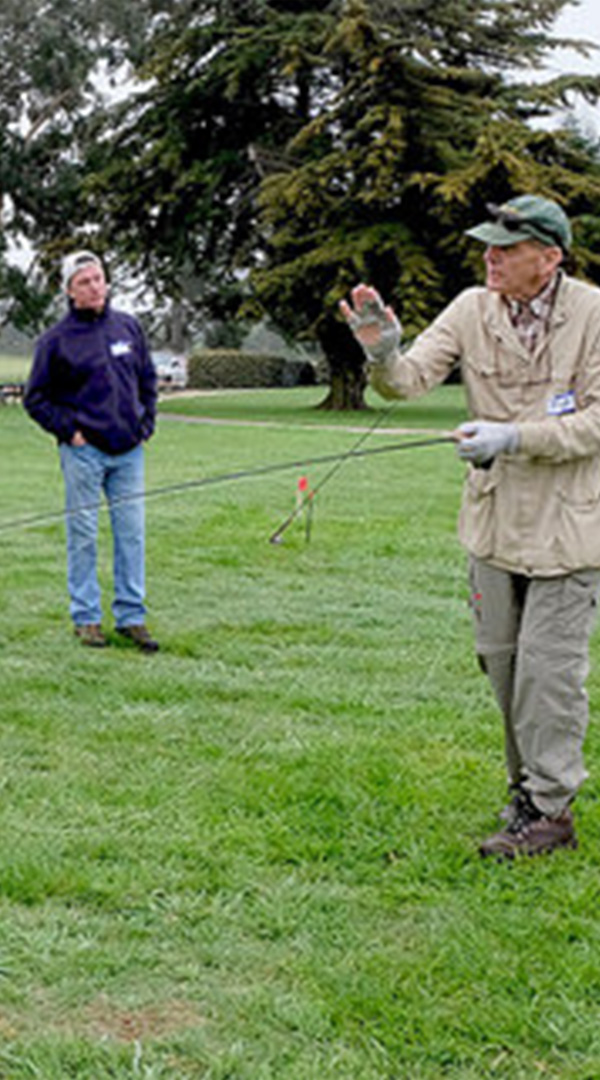 All the little things made easier!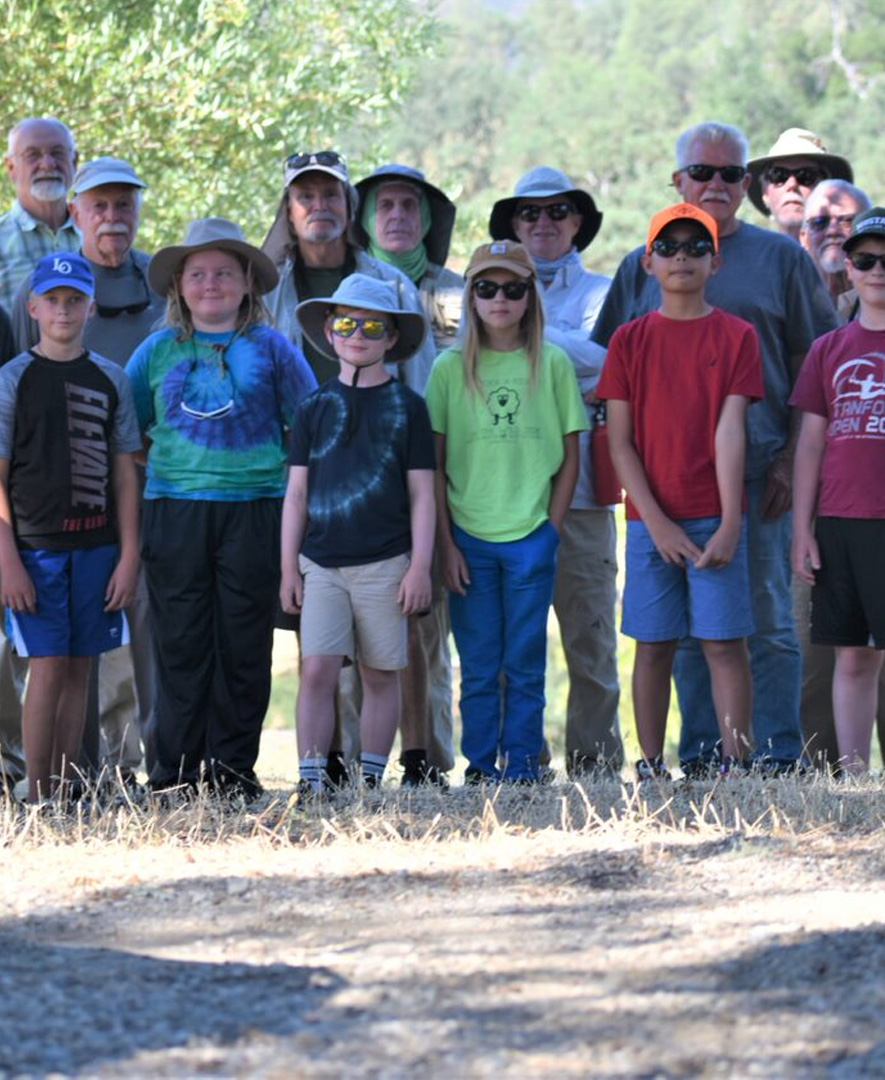 by   ROB PHILLIPS (lifetime club member)
Living on the Central Coast offers fly fishing enthusiasts a variety of opportunities. Local fresh water lakes provide an opportunity to fish for rainbow trout, small and large mouth bass and other species. The nearby Sierras offer some of the best trout fishing found anywhere in the world. Then of course there's the ocean with it's new challenges and opportunities for surf perch, halibut, and more.
Here's our own Rob Philips advice on getting started.
Fresh Water Fishing
Salt Water Fishing
Fresh Water Fishing
Fresh Water Fly Fishing
Well, once you have decided the lure of fly-fishing is too much for you to resist it is time to decide where to start. The simplest and most complex is Trout Fishing. OK, a true oxymoron. It is simply because you can catch fish with a minimum of casting skills, general knowledge and equipment; complex because it will take a lifetime to fully live out the joys of trout fishing. Firstly, get some casting instruction, PLEASE!!!, you have no idea how difficult it is to "unlearn" bad practices. I was a graduate of the "I can teach myself this casting thing…" Not a good choice of what to teach myself!!! And remember "Practice makes Permanent NOT Perfect!!" The club has somewhere around 5 FFF Certified Casting Instructors, put them to use! Or get a video, or read a book, or go to YouTube and find this video. It is THE best video on how to do the mechanics of casting, Bar None. 
http://www.youtube.com/watch?v=YanGwVzbgpk
It is in Spanish, but the best video on casting that I have found. But do it!! It will make your future in fly fishing more comfortable, effortless and way more fun.
What: Getting ready to go fishing, the GEAR
Get recommendations from experienced fly fishers on what kind of equipment you will expect to need for your desired place to fish. The list is again simple or complex. You choose! The number one "first trout outfit" by far is a 9 foot 5 weight medium fast action rod with a simple reel, loaded with a balanced WF (weight forward)line and leader. Like with getting into any sport, the cost can be a significant factor, so shop wisely, but the cheapest equipment will always be the cheapest equipment and will serve only to disappoint you as your skills quickly surpass your equipment. My ala Carte shopping suggestion has a priority list for a budget it would be Rod, Line, Reel in that order of importance. So, consider at least one step up from the cheapest gear you can find.
Simple kit is a rod combo, a box of flies for your intended destination, Polarized sunglasses, (EYE PROTECTION is critical!!!!!! All the time!!!) a few danglies (to be explained later) and off you go. Minimal investment. This is good for summer wet wading or just occasionally fishing while on vacation. The "Kit and Caboodle" is more. The above gear then a vest, waders, boots and a wader belt, more danglies. The list can go on and on. Oh, yeah, danglies, they are the small assortment of gear to make fly fishing easier and more efficient. They include, hemostats, nippers, water proofing grease, desiccant drying crystals, a zinger/leash for some of these danglies. Then your store of gear includes tippets, extra leaders, bandana, fish releaser, water, lip balm, sun screen. The list can truly go on and on.
One thing there is about waders. No matter what kind of waders you choose, the ABC Rule is just smart. It is "Anything But Cotton." Cotton will feel good when dry, BUT, it will retain moisture, and has no, I repeat NO thermal value!
Where: Choosing the water you want to fish: Fresh Water
You may have drooled over the destination places in the magazines. You've seen those glossy pictures of dripping trout, bass and steelhead… Maybe you have a family favorite vacation spot.
Think about where you LOVE to spend your very precious spare time. Wherever you choose do some homework here. Ask experienced fishers. Search it out in books and on the web. Check out hatch charts for when you plan to go. What kind of equipment is beneficial. Find the local fly shops to help with planning. Maybe even hire a guide to help you with your first foray to a new destination. A good guide will get you up to fish-catching-speed sooner than any one thing you can do for yourself.
The stream or lake that you choose to go to has some characteristics that can be used from water to water. This will be where your learning curve is to start. Your OBSERVATION SKILLS will be the key to finding out what is around! Yep, the first key to successful fishing with a fly is observing, noticing everything. If you don't you won't become a Ninja Phly Phisher, I kid you not. Running from the car and frothing the water with line, rod and waders, may get some adrenaline out of your system but the fright you give to the fish will not be rewarded with catching them.
Move to the water slowly…Take a moment to LOOK around and observe some of the things flying around (birds, insects), notice what is swimming around (fish,insects) and crawling around (insects, crustaceans), kick that willow bush near the water to see who flies away. Grab a rock from the stream or some weed from the margins of the lake and check out what varmints are swimming or crawling away from you. Color, shape, size. This may not be what is AVAILABLE to the fish NOW, but evidence of what is in the water now. 
What is available is a little harder to find out. Keep on observing. Are there any fish rising? What do their rise forms look like. Dimples? Swirls? Splashy? Surface disturbances? Jumping? Head and Tail rises? Are there insects sitting on the surface? Are there birds flying around, are they high or near the water? All good observations and evidence of what is happening. 
Now, the million dollar question. What fly to put on first? Well if you have done your homework and tied or bought the "fly dejour", start with that. Or, when in doubt, put on an Adams Parachute or a tan Elk Hair Caddis in a #14. The way I started stream fishing was with Soft Hackle flies. I had no casting skills, even less streamsmanship or entomology skills, but I could wave a rod around and swing flies in a current. And, lo and behold, I caught a few 'bows and brownies in the Sierra. A miracle!!! And then I was hooked, lined and sunk into flyfishing for the rest of my life.
Salt Water Fishing
Join the club and let's fish!